Gettysburg Wedding Venues
Your Historic Happily-Ever-After
Framed by spectacular views of Hunter Lake and 63 acres of rolling countryside, The Lodges at Gettysburg is one of the most timeless and romantic wedding venues in Gettysburg, Pennsylvania. Picture your arrival by horse-drawn carriage as you approach the dock for a lakeside ceremony. Your guests will be pampered by our professional team as they enter our Gloryridge Main Lodge and proceed to the ballroom for your reception. Our staff will meticulously care for you, your guests and every detail of your special day.
Additionally, our wedding planner and catering team will work with you to ensure that every detail is perfect, including tailored catering menus, venue décor, special rates on accommodations for wedding guests and fun group activities on the grounds or in Gettysburg. The Lodges are also available for buyout, giving your group private access to the grounds and accommodations. From your wedding ceremony and reception to a breakfast picnic, a sunset cocktail party on the patio and late-night patio activities, your gathering of family and friends will be filled with unforgettable moments.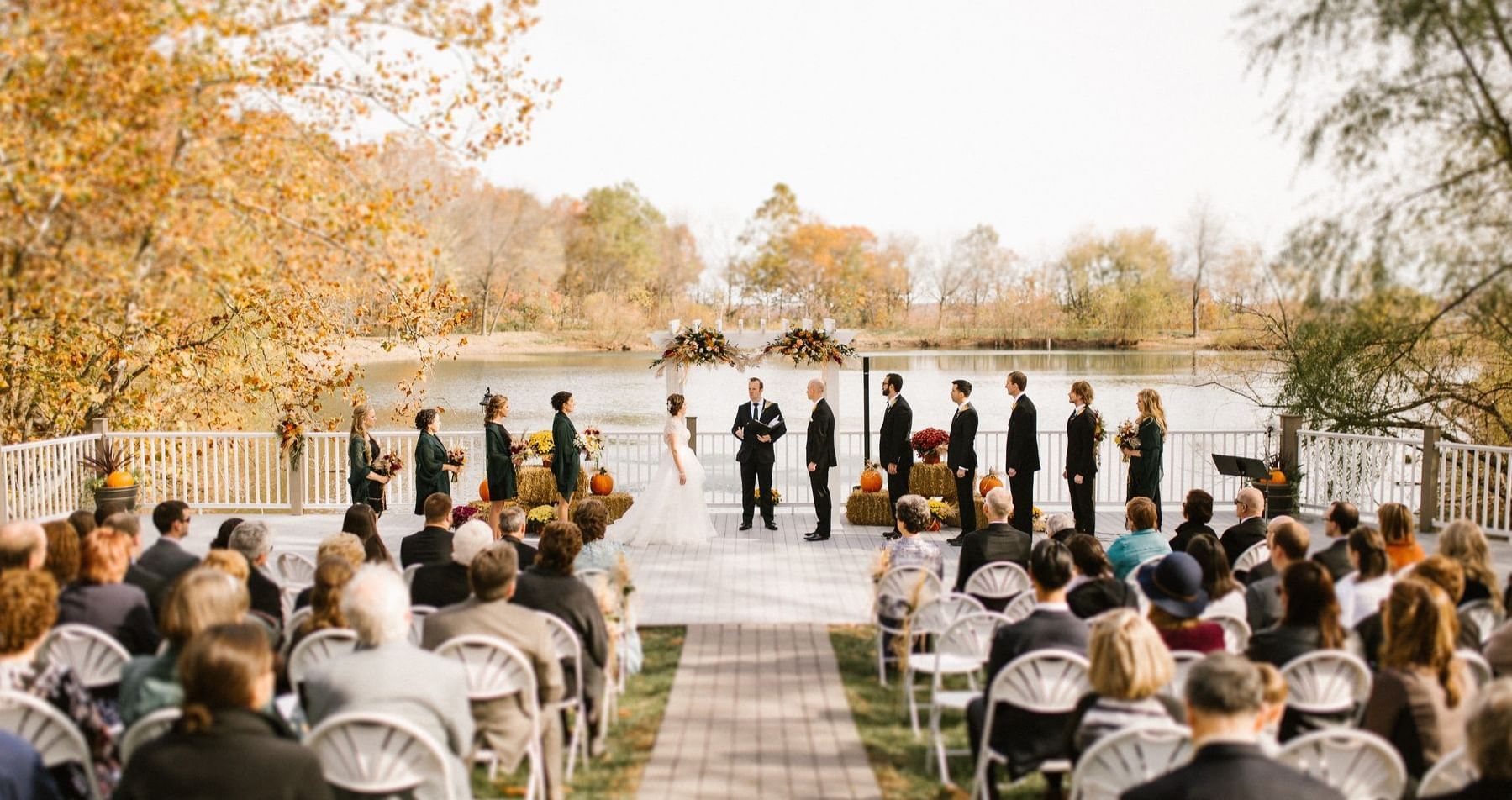 What our Couples are saying....

I don't even know where to start with all the wonderful things about this venue - with our Halloween wedding, we knew we wanted somewhere that took advantage of the beautiful fall foliage but also had on-site accommodations (all of our guests would be traveling in for the wedding). The Lodges was the perfect answer for both - theyre tucked out in the middle of the woods and the view of the mountains from the ceremony site on the pond is so stunningly beautiful, and we got especially lucky with all the fall colors still on the trees on a beautiful clear day. The cabins on site are also beautifully put together and very cozy, we were exhausted after the wedding but that was some of the best sleep we'd had in a while, and the champagne in the room was such a lovely touch! All of the staff were wonderful as well, Beth was absolutely integral in bringing this all together - Carson described her as the lynchpin in this whole ordeal and he's absolutely spot-on. That we were able to pull all this together in the middle of a pandemic and keep everyone safe and healthy in the process is an absolute triumph, and we wouldn't have been able to make that happen without her, she was so good about listening to our concerns and helping us arrange a solution that would be comfortable for all our guests. On the day-of she was absolutely on top of the game (or so I'm told), right in the thick of it all with my now-husband and my mother, pulling everything together until Susie took over for the event. Susie was a dream as well, everything went so smoothly and any hiccups that came up during the event were quickly and efficiently ironed out, I never spent more than a minute worrying about any one thing before she'd resolved it and sent us off on our way to enjoy the evening. The waitstaff was amazing as well, our guests had lovely things to say about them all. Unsurprisingly, we also heard a lot of praise for "my boy Kolton" behind the bar, especially from the friends who kept a drink in our hands all night (we appreciate them and appreciate you, Kolton). Also, shout out to Stewart for braving the frigid cold night to take care of the bonfire for us, it was the perfect way to end the evening and that there was still a golf cart running people up and down was so greatly appreciated by our guests. The front desk staff was also wonderful - thank you girls for putting up with all our dumb requests, and thank you Nona for helping bring everything together and taking care of our guests! The Lodges were absolutely perfect for our wedding and gave us an amazing celebration that people have continued to praise us for - if you're looking for a venue that goes above and beyond, please take the time to visit these wonderful people at this beautiful location!
We had the wonderful opportunity to get married at The Lodges and all I can say was that it was an absolute dream come true!!! Every detail is planned for, every worry is calmed, and every question is answered. Before the actual event, I was a bride with about 1,000 questions (sorry Beth!) and she always answered my emails timely, happily, and was beyond understanding! She also met with us to plan every step of the day out and ensured that each detail was exactly how we pictured it. She also made sure to offer a variety of options for decorations, placements, setups, times, colors, and much much more. The organization that goes into a wedding is crazy, but Beth takes it all on with a smile on her face! We had our rehearsal dinner, ceremony, reception, and morning after breakfast there and received so many compliments on the way everything ran so smoothly, the AMAZING food that was served, and the beautiful lodges that many stayed in - not to mention the area is just fantastic! They use golf carts to aid with getting people from the ceremony to the reception and truly made sure everyone was taken care of. As a couple, the one thing we are always told is how we won't get to eat on our wedding day - The Lodges makes sure that's not true! We had our own private appetizers together and (although we ate at our reception) also had both of our meals and a bit of dessert left in our actual lodge after the wedding with champagne! Although this was such a small thing, it truly made the end of the night that much more special and we loved being able to enjoy the food we had picked out. The breakfast the next day allowed us the chance to say goodbye to our guests and still had such sweet and thoughtful touches. There was not a single worker there that was not willing to help in every way possible with a smile and I will forever be grateful that I was able to relax and enjoy my wedding completely! I would have my wedding here over and over and I cannot wait to return for anniversaries in the future!
The lodges at Gettysburg are AMAZING! I had done research on so many venues and none of them met the criteria until I found this venue. I am originally from Canada as well as my family so we knew we needed a venue that included ceremony, reception, and lodging all on one property for the convenience of our guests. When we toured this venue I was blown away. It is such a naturally beautiful wedding site I knew I did not want to get married anywhere else. Plus this venue offers SO much with the price. They have prices that will work with anyone's price range. It can be cheaper depending on what day of the week you pick and also can have a discounted price dependent on how many guests book lodges. The cake is included, table linens, complimentary glass of champagne during dinner service,day of coordinator, $$ towards the salon on site and so much more! They also have a plethora of food options to fit anyone's budget. (side note: the food was delicious and received a lot of compliments from guests) Same can be said with the bar options. We booked it right away. Between when we booked the venue to our wedding day, our coordinator Beth was nothing short of amazing. She is very patient, kind and understanding. She truly cares about each bride and groom and wants the wedding day to be special and perfect. Every time I had a question or concern or was stressed out she was there to answer it all and support me. Without her I would have been a complete mess the entire planning process. When the wedding day came the ENTIRE staff at the lodges was superb. They made sure our guests rooms were ready early. The food and drinks for the bridal suite was served on time and was delicious and plentiful. The weather on our wedding day was rainy. Which no bride wants to have but the staff of the lodges ,especially our day of coordinator Susie, teamed up with the decor company and the day turned out beautifully. The catering staff was very timely and efficient with bringing the food to our guests and removing the dishes. And the bar staff was very very good at the drink orders and making sure our guests had a blast. All of the guests commented on how they loved the lodges and how gorgeous the property is as well as the reception area. It was the best day of my life and 10/10 recommend The Lodges at Gettysburg to everyone!
The Lodges at Gettysburg is by far the best venue for the best value! Seriously, do not look any further. The location is perfect (probably the best views around), every single staff member is there to assist constantly during your event, and OMG the food!! All of our guests were blown away with the location, food, execution of the day, and the amount of flexibility the Lodges offer. We just got married yesterday at this venue and we were compelled to write a review ASAP. So do yourself a favor, if you want to do your wedding or event right, book with the Lodges. You will not regret it. A special thank you to everyone who contributed to our special day!